Setsuko LeCroix's Work Selected for Groundbreaking Show at Contemporary Arts Center
Two oil on canvas works by Setsuko LeCroix have been selected to be part of VOICES & VISIONS on display at Cincinnati's Contemporary Arts Center (CAC) in the CAC's new Creativity Center & UnMuseum space.
ABOUT VOICES & VISIONS
Voices & Visions: Expressions by Cincinnati Asian America Artists celebrates the creativity and achievements of regional  Asian American artists during Asian American and Pacific Islander Heritage Month, June 2023. Nine artists from six different cultural heritages showcase their works of paintings, carvings, printmaking, ceramics, and sculpture paying tribute to their artistic traditions. The show is curated by Yu Ling Huang and is the first exhibition of this type at the CAC. 
Voices & Visions is exhibited in the CAC's new Creativity Center and UnMuseum opened October 2022 and is a place where "people of all ages can learn more about contemporary society, broaden their perspectives, develop their problem-solving and creative skills, and deepen their empathy."
Says LeCroix "To be included in this show and exhibited in this new space whose mission is vital, is beyond thrilling. I hope my work touches people and they ask a few new questions that might help expand their thinking just a little". 
ABOUT THE ARTWORK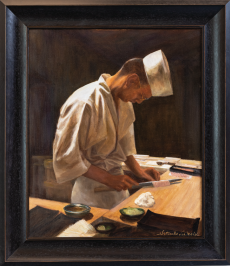 Sushi Chef: "While visiting a Sushi restaurant in Tokyo, I was impressed with the Chef's precise, intense minimal movement. The way he stood and would pivot, creating and delivering his artform. The soft lighting on the sushi bar counter, his cherished knife and his chef's white jacket was soft and emphasized his minimal flow. I was reminded of a Japanese Tea Ceremony where the simple task of preparing the offering for a guest is elevated to an art form, an intricate series of movements performed in strict order."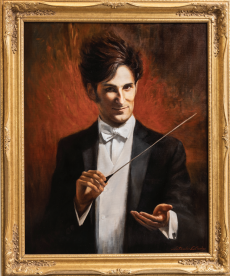 Maestro Isaac : 'In contrast to the calmness of Sushi Chef, Maestro Isaac is about fire, passion, and transcendent artistry. I was at the Maestro's performance of Don Giovanni, experiencing the last scene when he refuses to repent and is surrounded by demons and carried away to hell. The fire on stage, the fire in the music, and the fiery conducting was dramatic and inspired me to paint him. Interestingly, at the same time I was reminded of the image of the Buddhist Deity Fudo who is the supreme being of fire often depicted among the flames symbolizing fortitude. This juxtaposition of Western and Eastern, in my mind enabled the Maestro to convey the danger and pain of the protagonist in the last act of this tour de force opera." 
ABOUT THE ARTIST
Setsuko LeCroix is a native of Kyoto, Japan. She moved to Cincinnati in 1982 and later lived in Caracas, Venezuela, and Kobe, Japan. In 1993, during her time in Kobe, the artist began studying traditional Japanese ink painting (sumi-e). After returning to Cincinnati in 1999, she continued painting sumi-e. In 2009, after spending nearly fifteen years working on Japanese art, LeCroix began studying Western art under the direction of internationally renowned artist David Mueller who is based in the Cincinnati region.
Currently, LeCroix creates graphite portraits for commission and works on oil paintings of a variety of subjects. With her roots in the Japanese sumi-e tradition, the artist is equally at home in Western techniques. She moves fluently between traditional ink painting and western style painting techniques. "It's like cooking a Japanese dish one day and a French one the next. They are both delicious in their own way," she said. The artist has participated in numerous juried art competitions both in the US and Japan and received many awards throughout her career.
ABOUT THE CINCINNATI CONTEMPORARY ARTS CENTER
The Contemporary Arts Center (CAC) is a contemporary art museum in Cincinnati, Ohio and one of the first contemporary art institutions in the United States. The CAC is a non-collecting museum that focuses on new developments in painting,  sculpture, photography, architecture, performance art and new media. Focusing on programming that reflects "the art of the  last five minutes", the CAC has displayed the works of many now-famous artists. In 2003, the CAC moved to a new building designed by Zaha Hadid. The CAC champions open minds and fosters an inclusive culture by using contemporary art and mutual learning as vehicles for connecting people, cultivating creativity, and catalyzing curiosity. 
Photography by Ross Van Pelt, www.rvp-photography.com • Setsuko LeCroix: https://lecroixfineart.com